DSP-I塑料安瓶灌封包装机
发布日期:
2018-06-13 14:47:15

点击:

1098
  特点:
  PLC控制,无级变频调速。
  放倦、安瓶成型、灌装、封尾、打批号、切尾、分切等22个工位由程序控制,连续自动完成。
  人机界面装置,操作简单明了。
  灌装头不滴漏,不起泡沫,不溢出。
  采用优质不锈钢材料,符合GMP标准。
  主要元器件均采用进口。
  适用范围:

  液态药品、保健品、食品、化妆品及其它工业领域类似产品的包装。
  技术参数:

  最大成型深度:10mm
  冲裁次数:≥10-18次/分
  包装效率:10-18次/分 8-15支/板
  板块尺寸:长度315mm(最大) 宽度78-108mm(最大)
  包装材料:PVC/PE0.3×345mm
  灌装容量:5-25ml/支 0.3×345mm
  耗气量:110L/min
  耗水量:6L/min
  电源总功率:12KW
  电压:380V/50Hz
  外形尺寸(长×宽×高):3870×1780×1850
  重量(公斤):3400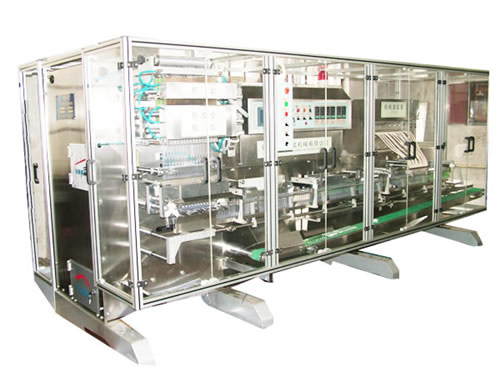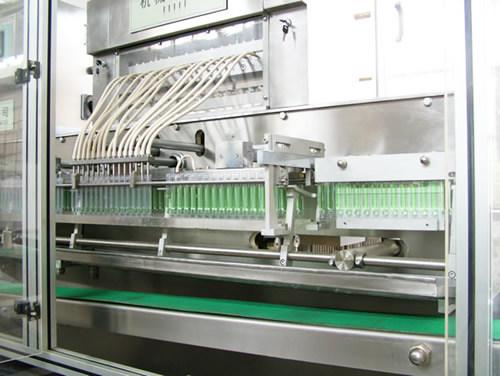 DSP-I Plastic AMP Filling & Sealing Packing Machine
  Features:

  PLC control, frequency variation and stepless speed
  22 positions are controlled by procedures and continuously finished by automatically including spreading rolls, AMP bottle forming, filling and packaging, sealing the end, printing batch numbers, cutting the end, and cutting by parts.
  Human-machine interface device helps convenient operation.
  No dropping, leaking, bubbling and overflowing of the filling head.
  Adopt high-quality stainless steel materials, which accords with GMP standard.
  Main components are imported.
  Application scope:
  Applicable to packaging liquid medicine, health care products, food, cosmetics and similar other industrial products
  Specifications:
  1.Max forming depth: 10mm
  2.Cutting frequency: ≥10-18 times/Min
  3.Packaging efficiency: 10-18 times/Min 8-15 bottles/plate
  4.Plate dimension: length 315mm(Max) width 78-108mm(Max)
  5.Wrapper: PVC/PE0.3×345mm
  6.Filling & packaging capacity: 5-25ml/bottle 0.3×345mm
  7.Air consumption: 110L/min
  8.Water consumption: 6L/min
  9.Total power supply: 12KW
  10.Voltage: 380V/50Hz
  11.Dimension (Length × Width × Height): 3870×1780×1850
  12.Weight (Kg): 3400