DPH190A型辊板式泡罩包装机
发布日期:
2018-06-13 15:11:10

点击:

1032
  特点:
  板式正压吹塑成型、辊式热封、包装效率高。
  可与通用上料机、掉头上料机、圆盘上料机配套使用
  PLC 控制,无级变频调速,调整范围广泛,传动噪音低。
  人机界面装置,操作简单明了。
  自动打批号、压断裂线。
  主要元器件均采用进口。
  整机采用全封闭方式,符合GMP要求。
  适用范围:

  各种规格的胶囊、素片、糖衣片、胶丸及异型片,巧克力豆,口香糖等小食品。
  技术参数:

  最大成型深度: 15mm
  冲裁次数: ≥60次/分
  包装效率:≥180板/分
  包装材料:PVC190×0.25mm PTP190×0.02mm
  最大步进距离:204mm
  耗气量:300L/min
  耗水量:4L/min
  电源总功率:5.5kw
  电压:380V/50Hz
  外形尺寸(长×宽×高):2285×880×1750mm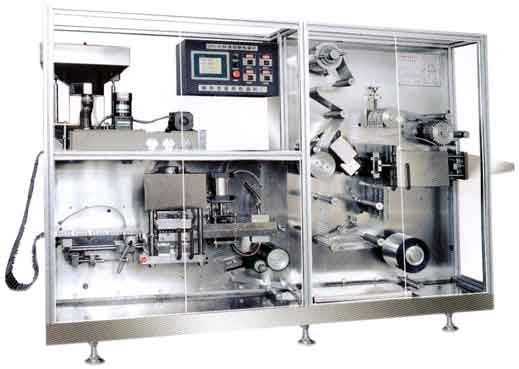 Type DPH190O Roller—plate Blister Packing Machine
  Features:

  Board-type pressure blow molding, roller-type heating seal, high packaging efficiency
It can be used with general feeding machine, turn-around feeding machine and disc feeding machine.
  It is controlled by PLC, and ensures frequency variation and stepless speed with wide range and lower noise when in operation。
  Human-machine interface device helps convenient operation.
  Automation beating batch number and pressing breaking lines
  Main components are imported.
  The machine is totally-sealed, which accords with the GMP standard.
  Application scope:

  It applies to different specifications of capsules, white pills, sugar-coated pills, caps, special pills, marble chocolate, and chewing gum etc.
  Specifications:

  1.Max forming depth: 15mm
  2.Cutting frequency: ≥60times/Min
  3.Packaging efficiency: ≥180 plates/Min
  4.Wrapper: PVC190×0.25mm PTP190×0.02mm
  5.Max step-over: 204mm
  6.Air consumption: 300L/min
  7.Water consumption: 4L/min
  8.Total power supply: 5.5kw
  9.Voltage: 380V/50Hz
  10.Dimension (Length × Width × Height): 2285×880×1750mm