Dll-160型高速自动铝铝包装机
发布日期:
2018-06-13 15:16:54

点击:

1111
  高速自动铝铝包装机是我厂科技人员在引进国外先进设备的基础上,采用国际上先进技术吸收而消化改进的药品包装机。具有设计新颖、结构合理、调节灵活、操作维护方便等优点。
  该机配备振动式整列加料机构,变频调速、行程可自由设定、充填、热封、撕线、打批号、裁切等工序自动完成、可达高速运行,同步准确无误,各项技术指标符合"GMP"规范要求。

  适用于制药行业各种片剂,胶囊及各种异形固体物品的避光防潮包装。

  主要技术参数:

  生产效率 10000-30000粒/小时

  电机功率 0.55kw
  压缩空气 0.4Mpa
  包装宽度 最大宽度160mm
  整机重量 420kg
  外形尺寸 长×宽×高(L×W×)1200×850×1700mm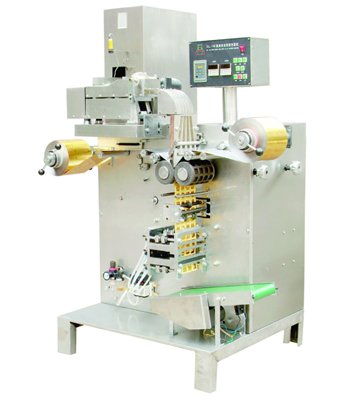 DLL-160 High Speed Automatic Aluminum Packing Machine
  The machine is invented by our technical staff adopting and absorbing the international advanced technology on the base of introduced international advanced equipment. The machine is flexible to operate and convenient to maintain with original design and reasonable structure.

  The machine is equipped with vibratory alignment feeder. The frequency control and range can be set by itself freely; filling, heat sealing, ripping, laying batch number and cutting processes can be done automatically. Operating the machine can be at high speed, synchronous accuracy. The technical specifications of the machine are all in accordance with GMP code requirements.
  The machine applies to packing all kinds of tablets, capsules and abnormal solid products of the pharmacy line, which need the packing is damp-proof and sun-avoid.
  Specifications:

  Production efficiency: 10000-30000 granules/hour
  Motor power: 0.55kw
  Compressed air: 0.4Mpa
  Packing width: max 160mm
  Total weight: 420kg
  Dimension (Length × Width × Height): 1200×850×1700m