DPH130A型铝塑泡罩包装机
发布日期:
2018-06-13 15:19:06

点击:

1050
  DPH130A 型铝塑泡罩包装机是辊+板结合的铝塑泡罩包装机。它集板式与辊式包装机的长处于一体,是目前世界上较为先进的多功能包装机。
  该机的、电、气、水等功能,全部由电脑控制,全封闭式工作,布局合理,各工作部位维修、清理及检修为方便,主要零部件均采用不锈钢和铝合金材料精工制成。整机符合制药行业所需求的"GMP"标准。

  该机可与通用上料机、掉头上料机、圆盘上料机配套使用。可自动打双批号,压撕裂线。其主要元器件均采用进口。

  主要技术参数:
  1、包装范围:各种规格的片剂、胶囊、胶丸、素片及各种异型片。

  2、成型方式:正压成型,间歇工作。
  3、成型面积及深度:Ma×130×170(mm)Ma×13(mm)
  4、热封方式:辊式连续工作
  5、最大步进距离:210(mm)
  6、包装材料:PVC130×0.25(mm)PTP130×0.02(mm)
  7、冲裁次数:≥60次/分
  8、耗气量:300L/min
  9、耗水量:3.2L/min
  10、电源总功率:11KW
  11、电压:380V/50HZ
  12、外形尺寸(长×宽×高):2285×820×1750(mm)
  13、重量:1600kg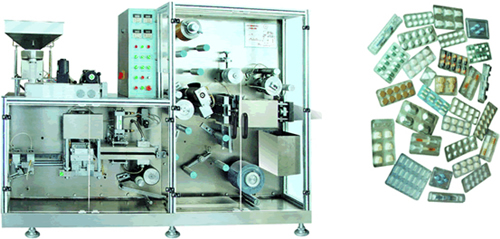 DPH130A DPH130B Aluminum-plastic Blister Packing Machine
  DPH130A aluminum-plastic blister packing machine combined with roller and plate, which incorporates the advantages of the plate type packing machine and the roller type packing machine. It is an advanced multi-function packing machine in the world at present.

  The function such as electricity gas and water are controlled by computer. The machine works in a totally enclosed manner with reasonable layout. It is convenient to maintain clean and overhaul. The whole machine is finely manufactured of stainless steel and aluminum alloy. The machine is accordance with the national manufacturing pharmacy GMP standard.
  The machine can cooperate with feeding machine, turn-around feeding machine and disc feeding machine. The machine can seal double batch number automatically and line. The main parts adopted in the machine are exported from the abroad.
  Specifications:

  1. Packing Range: all kinds of tablets, capsules, CAP, plain tablets and abnormal tablets.
  2. Forming Manner: Positive pressing mould, operation intermittently.
  3.Forming area and depth: Ma×130×170(mm)Ma×13(mm)
  4. Heat-sealing Manner: Roller continuous operation
  5.Max step-over: 210(mm)
  6. wrapper: PVC130×0.25(mm)PTP130×0.02(mm)
  7. Cutting Frequency: ≥60times/Min
  8. Air consumption: 300L/min
  9.Water consumption: 3.2L/min
  10. Total Power supply: 11KW
  11. Voltage: 380V/50HZ
  12. Dimension (Length × Width × Height): 2285×820×1750(mm)
  13. Weight: 1600kg