快速DPH300G铝塑包装机
发布日期:
2018-06-13 16:03:30

点击:

1622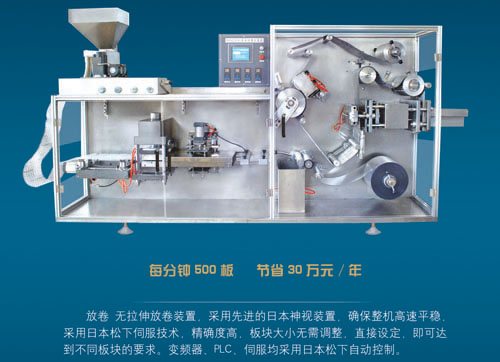 产品简介
  外形美观,全部不锈钢蒙面,全封闭,符合制药行业GMP生产要求,质量可靠,运行稳定,可按不同生产规模进行选型。
  Beauty. all stainless steel masked, with the pharmaceutical industry closed cycle gmp requirements of production and reliable quality, stable, but a different scale of production. a sizing
  产品特点
  1、集光、机电、气为一体,由人机界面操作,PLC系统控制。
  2、无级变频调速、高速范围40-180次/分(冲切)注根据板型长度决定冲裁次数。
  3、无中间纵边,横边废料,年节约耗材30余万元,板式排列送出,减少管理人员三名。
  4、采用日本神视光导纤维组合检测器件而控制片材放出量精度高。
  5、伺服电机挟持控制,板块大小无需调整,直接自动设定。
  6、可与通用上料机,圆盘上料机配套使用。
  7、板式成型,辊式封合,包装效率高,外形美观。
  8、自来水,循环水冷却(外接)。
  Product's Feaures:
  1、light harvesting, electrical, to one, the man-machine interface, plc system of control.
  2、frequency translation machinery velocity modulation, high level of 40 to 180 points (die cutting) the board to cut down on the basis for the length will be cut down many times.
  3、the vertical, horizontal of the waste, save fallen more than 30 million yuan, they sent out, to reduce administrative personnel to three.
  4、the japanese god optical fiber a combination of the detector and control of high precision. the amount of resources released.

  5、Servo motor control the size and escorted to the set. direct.

  6、with material, the general on the supporting material machine.

  7、in chinese operatic music and roll in sealing, high efficiency, beauty.

  8、fountain, the circulation of cooling water ( outside ).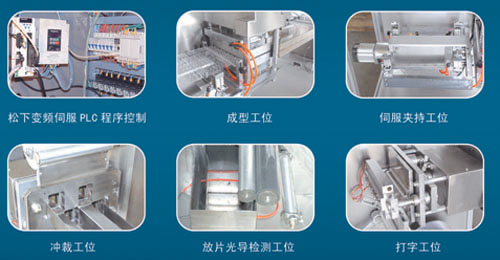 主要技术参数:Main Tech-parameters
  冲裁效率:20-180次/分 cutting efficency:20-180/pm
  最大成型面积:250x300mm Max firmation of sizes:250x300mm
  PVC:300x(0.15-0.45)mm pvc:300x(0.15-0.45)mm
  PTP:300x(0.02-0.03)mm PTP:300x(0.02-.0.03)mm
  电源及功率:8.5KW Poewr supply and power:8.5KW
  整机尺寸:3000x940x1500mm Overall Sizes:3000x940x1500mm
  包装尺寸:3500x1200x1690mm Packing sizes:3500x1200x1690mm
  整机重量:1600Kg Overall weight:1600kg